E033 - F312 Custom Shear Pin Loadcell
Important
The F312 only measures a bi-directional single axis force. It does not measure variable vectors. A shear pin will not provide the same structural integrity as a solid inert axle or pin that it is intended to replace.
Technical
Shear pins must not be considered as precision loadcells due to the following:
The pin dimensions dictated by existing hardware based applications may not allow an optimised design of the stress system. Often the combination of bending stress and bearing wear is highly detrimental to shear pin performance.
Shear pin performance depends on the condition or dimensional tolerances of the mating hardware.
Shear pin reaction surfaces are typically not ideally suited to precision loadcell design requirements.
Design Principles
Uniformly Distributed Load Type
High strength and structural integrity
Lower precision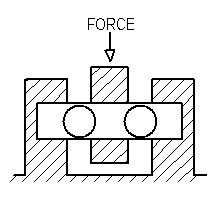 Low Bending Stress
Low Deflection
Best Suited For Lifting Equipment Or Safety Critical Applications
The bearing fit tolerances in end support and pulley bearings provides higher structural stability and strength.
The bearing surfaces are often imperfect and produce reactions that vary in position with the applied load.
Point Load Type
Higher precision
Lower strength and structural integrity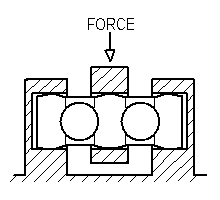 High Bending Stress
Best Suited For Static Pins Or Process/R and D Force Measurements
The precisely positioned reaction points are designed to provide high repeatability and low hysteresis resulting in higher performance.
The higher bending stress and point load effects reduce the structural integrity.
Possible Design Features
Toleranced diameters.
Oil and grease ways.
Keeper plates.
IP67 sealing.
High structural or high performance options.
Heat shrink encasements and bearing surfaces.
High temperature specifications.
Integral amplifiers.
Proof load test certification.
Destructive tests.
Cantilever or stub axle designs.
High g / vibration resistant technology.
Pins can be used in conjunction with the F314 bearing mount providing force vector data in the XY plane.
We can manufacture shear pin loadcells to your specific requirements.